Powergen & IGT Forgings
Our forged products for power generation markets are precision forged blades, seamless rolled rings, forged shafts, forged round and flat bar & hollow extrusions.
Key applications include IGT components such as casings and seals, turbine blades, slip rings and flat bar products for blading bar raw material feedstock.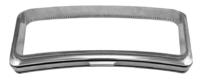 We are also the leading forging manufacturer of the Gas Turbine Transition Piece (commonly referred to as picture frames).
Key strategic stock alloys for us are:
Nickel Alloys: Alloy 617, 625, 718, 75, 80A, 90, HX, HS, X750, 200, 400, K-500
Cobalt Alloys: Alloy 188, L605
Stainless Steels: 17-4 PH, 304L, 410
Blading Bar Grades: 20Cr13,12CrMo, M152, XM19, FV520V, 25CrMo, 42CrMo4