Testing and Inspection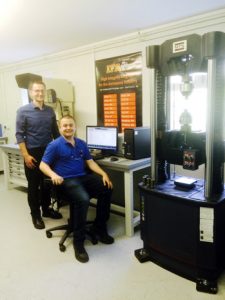 Independent Forgings and Alloys (IFA) are pleased to announce the launch of their new Technology Centre which was opened in May 2016.  The Technical Centre is within their forge site in Sheffield and now gives IFA the capability to perform mechanical testing and provide the technical resource to undertake all metallurgical investigations in-house.
The new facility will help IFA reduce lead times, as all test samples, testing, and certification are now integrated within the company.  The Laboratory has the capability to perform mechanical tensile and impact testing over a range of temperatures and provide full metallurgical assessments which IFA will now include as part of their certification for customer's product.
The new Testing Laboratory was UKAS approved on 6th May 2016.
Managing Director, Andy McGuinness is very pleased with the development, "This is the final component within IFA's plans to offer customers a fully integrated metal service centre. With us now having mechanical testing and metallurgical work in-house we can offer our customers improved lead-times and the potential for cost savings."
The Laboratory adds a team of four metallurgical technicians and two quality assurance staff into the IFA workforce.
We offer a full range of NDT inspection services to complement our forging:
Operators qualified and certified to SNT-TC-1A & PCN Level II
Ultrasonic examination and characterisation  of Forged and Machined products using contact probes.
Positive Material Identification (PMI) testing to indicate the chemical analysis of alloys
Colour contrast Visible Dye Penetrant Inspection of machined products.
Colour contrast Visible Magnetic Particle Inspection of machined products.
CMM Dimensional characterisation on components up to 600mm diameter.
Experienced Visual examination of finished products.
Component marking using fully programmable dot marking machine.